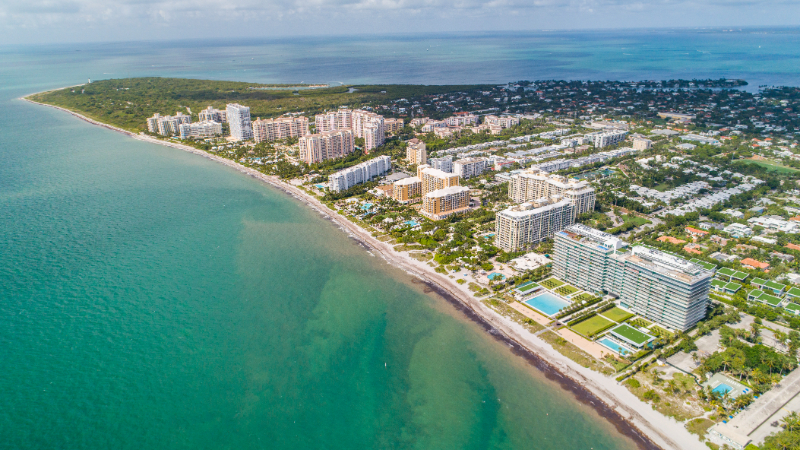 The beautiful village of Key Biscayne is only a 15-minute drive from downtown Miami, but Key Biscayne feels like a world away from Miami's busy and fast-paced lifestyle. The small "Island Paradise", as the locals call it, is a residential area set between Crandon Park to the north and Bill Baggs State Park to the south. Bill Baggs is home to the famous and often visited the historic lighthouse. Visitors and residents enjoy the quiet, palm-tree-fringed beaches, many bike paths, casual and fine dining restaurants, and high-end accommodations. It is a family-friendly place where neighbors know each other, residents feel safe, children bike to school and back, and where the preferred mode of transportation is golf carts. Its quiet, friendly, and safe lifestyle makes it one of South Florida's premier destinations for home buyers. It is a special place where newcomers feel at home right away! It consists of about 15,000 residents who enjoy island living at its best!

Sorry we are experiencing system issues. Please try again.

HOMES FOR SALE IN KEY BISCAYNE, FLORIDA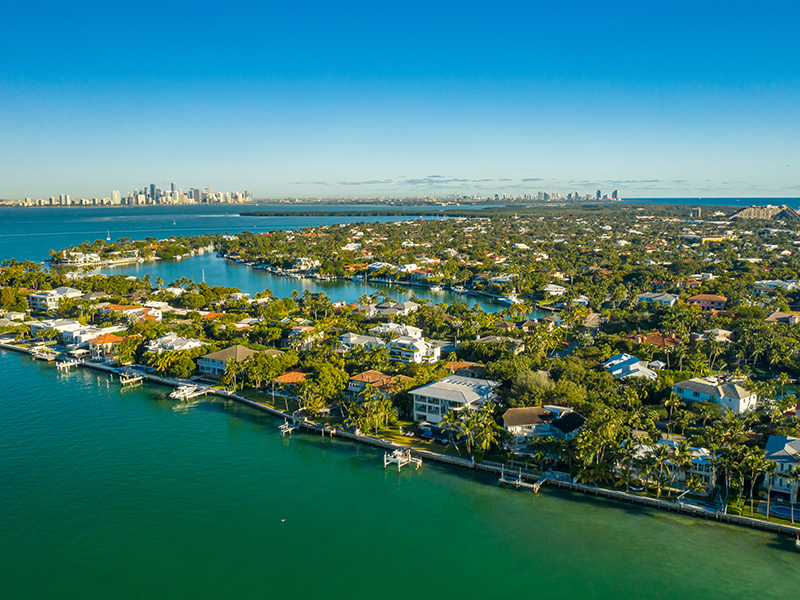 Want to live in a tropical paradise with easy access to modern creature comforts? This is the kind of life that awaits you in the coastal town of Key Biscayne, Florida. Often regarded as Miami's island secret, Key Biscayne is just a short drive from Downtown Miami via the Rickenbacker Causeway but it feels like a place secluded from the rest of the world. This island town may seem tiny but it possesses both the allure and grandeur of everything South Florida has to offer.
Get ready to catch the waves and be surrounded by lush nature once you purchase one of the Key Biscayne, FL homes for sale. Here are the things you can expect when you invest in a property in this wonderful tropical paradise.
AN OVERVIEW OF KEY BISCAYNE, FL
Key Biscayne is located in the middle of a four-mile-long, two-mile-wide barrier island that sits between the Atlantic Ocean and Biscayne Bay. A causeway and several bridges connect Key Biscayne to the City of Miami which is just seven miles away. The village was incorporated back in 1991, making it the first new municipality in Miami-Dade County in more than 50 years.
The Town of Key Biscayne is known for its laid-back environment because of all the nature surrounding it. Apart from its scenic beaches, the village also has two state parks, namely Crandon Park to the north and Bill Baggs Cape Florida State Park to the south. Recent property developments, however, have transformed Key Biscayne into a unique and upscale tourist destination that caters to international tastes.
Many people come to Key Biscayne as tourists but a good number of them decide to settle here for good, especially after seeing that it is an ideal location for their next property. Investors, for their part, look at Key Biscayne, FL homes for sale to find their second home or a luxury vacation property. Then, there are buyers in search of the perfect place to retire and spend the best days of their adult lives. With more investors and retirees making their big move toward this oasis, Key Biscayne now boasts a diverse local population made up of an eclectic mix of Latin, European, and American professionals.
THINGS TO DO IN KEY BISCAYNE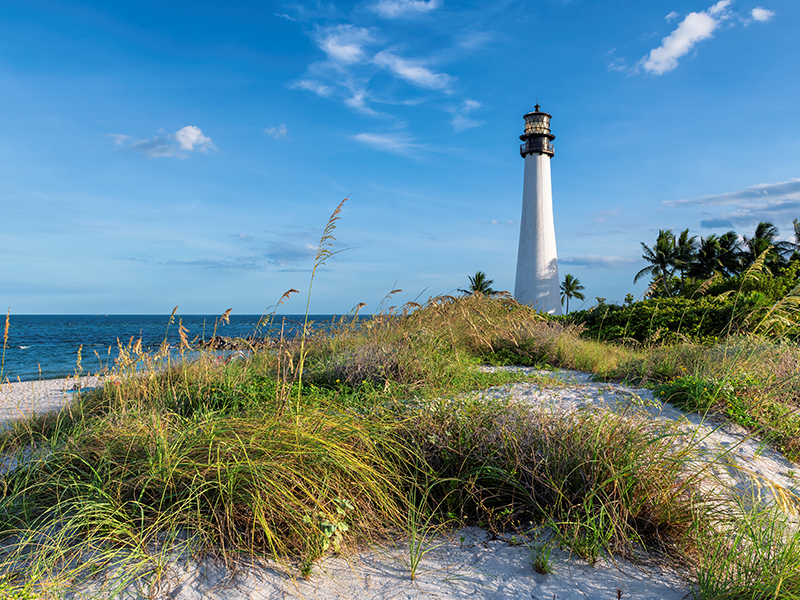 While Key Biscayne tends to give that remote-paradise-island feel, there's no shortage of dining and recreational options to choose from here. Once you decide to put down your roots here and buy one of the Key Biscayne, FL homes for sale, expect to experience the following historical, cultural, and gastronomic attractions and pleasures that you'll only find here.
Sights and views
Bill Baggs Cape Florida State Park has turned into a tourist magnet, especially after this green space was recognized by Conde Nast Traveler as one of the best beaches in the United States. Here, visitors are given front-seat views of the surrounding waters and the distinct Miami skyline across the shore. Located within this park is the Cape Florida Lighthouse, a 19th-century structure that offers breathtaking 360-degree vistas of Key Biscayne and the waters of the bay.
Crandon Park, for its part, boasts the prettiest shores in all of Miami. It provides the perfect contrast to the cosmopolitan vibe of the city with its lovely palm trees and dunes. Crandon Park is also known for its golf and tennis facilities, along with a wealth of outdoor and recreational activities.
Biking and other outdoor activities
Primarily known for its beaches, Key Biscayne is also a bike-friendly place. Residents and tourists alike frequent the many biking trails around the village, particularly the trail along Bill Baggs Cape Florida State Park which provides gorgeous nature views all around.
Those who are after a heart-pumping adventure can try out kiteboarding in the waters off Crandon Park. For other ways of enjoying one's time on the waters of the Atlantic, Crandon Park also offers kayaks and paddleboards for rent.
Underwater exploration
You can also marvel at the wonders of the marine world by visiting the third-largest barrier reef in the world found in Key Biscayne. Partially protected by the Biscayne National Park, the reef has been receiving more attention from concerned agencies recently after suffering some degradation. Nevertheless, the marine life here still provides a spectacular sight for divers and snorkelers alike.
Apart from the reef itself, another gem just a few miles from Key Biscayne takes the form of an actual underwater archaeological trail where you'll find six of 50 shipwrecks. The earliest of these shipwrecks have been around since 1878.
Great dining with a view
After a tiring day outdoors, kick back and relax with a hearty meal from some of the best restaurants in Key Biscayne.
Enjoy both the view of the majestic Miami skyline and the sparkling Biscayne Bay, as well as modern American dishes made from fresh seafood at the Rusty Pelican.
For something Mediterranean, check out one of the local favorites – Costa Med Bistro + Wine –for appetizers such as veal sweetbreads and escargots and dishes like Honey Roasted Salmon or Costa Med Chicken Rotolato.
Then, there's Narbona, a family-owned restaurant that uses ingredients straight out of the family's farm. Highly recommended are their octopus and mussels.
Kazumi is another Key Biscayne dining spot that serves dishes Japanese fusion-style. You haven't lived enough if you haven't tried its out-of-this-world sushi preparations.
Sailboat owners, meanwhile, flock to Boater's Grill where they can dine on scrumptious delights from the sea like Lobster in Creole Sauce or Seafood Paella then complement with some homemade sangria.
Ultimate hospitality and relaxation
For a relaxing vacation in the lap of luxury, Key Biscayne has the grand Ritz- Carlton in its midst. From world-class hospitality to a lovely tropical location to five-star amenities, this hotel offers a luxurious yet laid-back experience for its patrons. Amenities here include two oceanfront pools, well-appointed suites with stunning ocean views, an 11-court tennis center, a full-service spa, and a fitness center.
KEY BISCAYNE DEMOGRAPHICS AND ECONOMY
2021 data from the Miami-Dade Beacon Council reveal that a huge chunk of the residents in Key Biscayne is in the 68+ age bracket, followed by those between 0 and 9 years old. This suggests that Key Biscayne is the preferred area for senior adults escaping the harsh winters of their original locales, as well as new and growing families looking for quality education for their children. Thus, it comes as no surprise that these two groups from opposite ends of the generational spectrum come to live in Key Biscayne. Living here offers its residents an urban feel with many restaurants, coffee shops, schools, and parks while being only 15 minutes away from Downtown and the financial district.
The same statistics from the Miami-Dade Beacon Council also reveal that more than 70% of Key Biscayne's more than 14,000 residents have attained a college degree or have finished graduate school. A majority of its 6,000+-strong labor force holds corporate positions either as office or administrative support or management posts. Overall, 69% of Key Biscayne's workforce are in white-collar jobs.
Given the top positions and educational attainment of Key Biscayne's residents, it's not hard to see why the median household income is 116% higher than the rest of the nation. Households here earn a median income of more than $147,000 yearly.
In terms of employment, the highest number of career opportunities in Key Biscayne is found in accommodation and food services (1,520 jobs), followed by the banking, finance, and insurance sector (855 jobs).
LIVING IN KEY BISCAYNE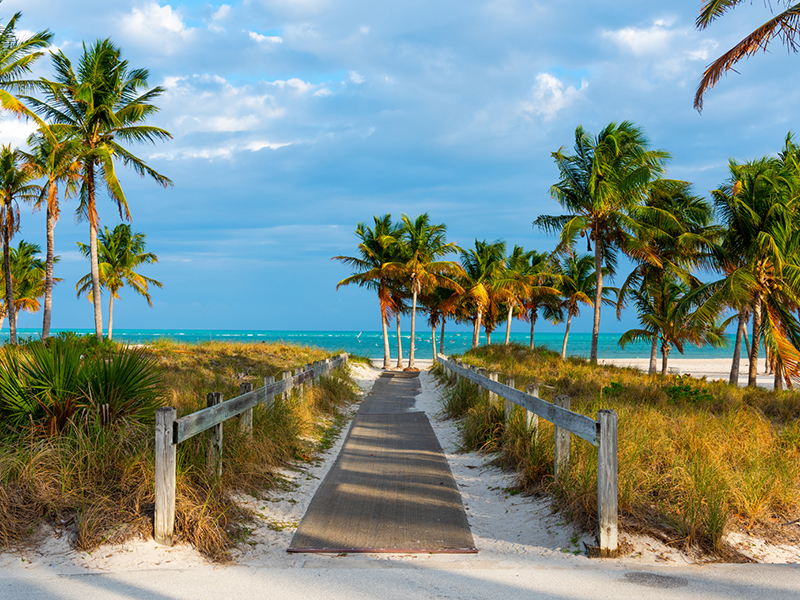 With the small-town feel, more than ample creature comforts, top schools, and the plethora of activities and attractions that Key Biscayne offers its residents, it has gained a place in the roster of top suburbs in Florida.
Key Biscayne is not different from the rest of the Sunshine State in offering a wonderful subtropical climate that makes all seasons of the year perfect for outdoor activities. Snow is nonexistent here during wintertime. Summers may be a bit on the extreme side but this can easily be remedied by a visit to the nearby beach or a dip in the household pool.
Kids will love biking and playing in its parks, while adults will love a night out at local restaurants with the best seafood dishes. If you're worried about the quality of schools in Key Biscayne, you can rest easy knowing that some of the best public and private schools are close by.
The residents are known to be tight-knit and friendly, and you won't find it hard to settle in once you make the move to Key Biscayne. It is a place where people easily get to know their neighbors and are involved in the community. This is where the feeling of belonging is real.
Key Biscayne is also a place where you can see your family grow up in a peaceful and nurturing environment, given the warm and welcoming neighbors and the many support systems catering to residents' welfare.
HOMES FOR SALE IN KEY BISCAYNE, FL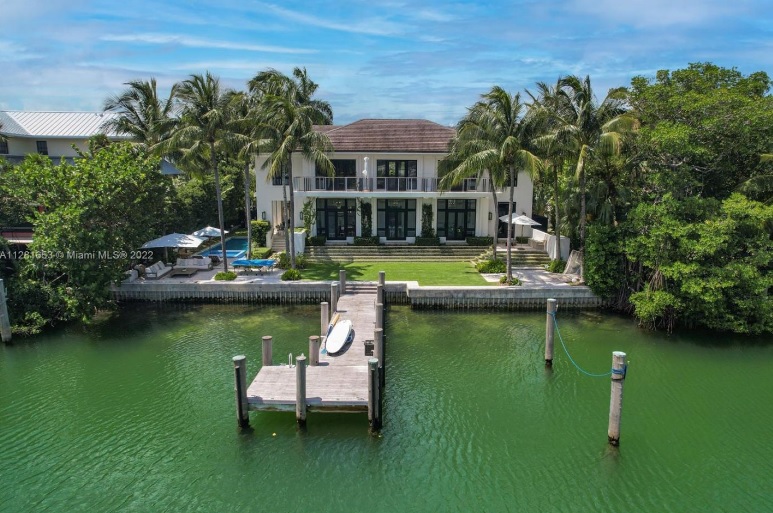 The winds in the Key Biscayne housing market have slowly shifted from sellers to buyers, and you'll be finding more available homes at a median listing price of $2 million (as of October 2022). There's nothing to stop you from taking advantage of the bigger opportunities for buying one of the homes for sale in Key Biscayne, FL, especially if you have financially prepared yourself for the more substantial investment in luxury homes here.
Taking the top spot among available real estate here are investment properties like apartment complexes that provide residents with spectacular views of the ocean and the bay from several feet up. Single-family homes are next while townhomes are a far third.
Single-family homes and luxury homes
Most single-family homes in Key Biscayne are considered luxury homes due to their proximity to the waters surrounding the island, their rich suburban feel, as well as features and amenities that define opulence and class. They also come fully equipped with smart home tech for safety, protection, and convenience. All these amenities and features fully justify the high price tags on these lovely abodes.
Key Biscayne homes are usually set in dominant architectural styles such as modern, contemporary, and Mediterranean, with environment-friendly construction materials that adhere to principles of sustainability.
Single-family homes for sale in Key Biscayne, FL offer buyers the chance to put down roots in this paradise. With seamless open floor plans, sprawling outdoor living spaces, and a layout that complements the tropical surroundings, they provide both form and function to successful buyers. Best of all, single-family homes found here afford you more privacy as your next-door neighbor may probably be at least one fence and a garden away.
Apartment complexes and condos
Those who wish to experience the Key Biscayne lifestyle but are not yet ready to settle full-time can opt to rent an apartment unit. Elegant apartment complexes actually dominate the Key Biscayne real estate scene.
Meanwhile, condo living offers its residents wonderful amenities such as swimming pools, tennis courts, beachfront living, and round-the-clock security.
EXPERIENCE THE KEY BISCAYNE LIFESTYLE WITH THE HELP OF EXPERTS
It's time to turn your dream of owning one of the many gorgeous Key Biscayne, FL homes for sale into reality with help from our dynamic real estate team at Great Properties International Realty.
Our boutique real estate firm may seem small but we are actually among the most established brokerages in the Sunshine State with more than 15 years of successful big-ticket transactions. We particularly specialize in luxury and waterfront real estate in South Florida communities, including Key Biscayne, Miami, Coconut Grove, Coral Gables, Brickell, Wynwood, The Roads, and Pinecrest.
Our team of real estate specialists has a proven track record handling high-end clientele from Europe, and the Americas. The success of our endeavors lies in our people who are blessed with the gift of communicating with our clients in their native languages. This gives us the edge in better understanding and catering to their needs and concerns.
Expect professional and personalized service when you come to the Great Properties International Realty team for your real estate endeavors, especially homes for sale in Key Biscayne, FL.
Navigate the Key Biscayne real estate market with our expert guidance! Call our team at 305.215.1686 or reach out to us here.