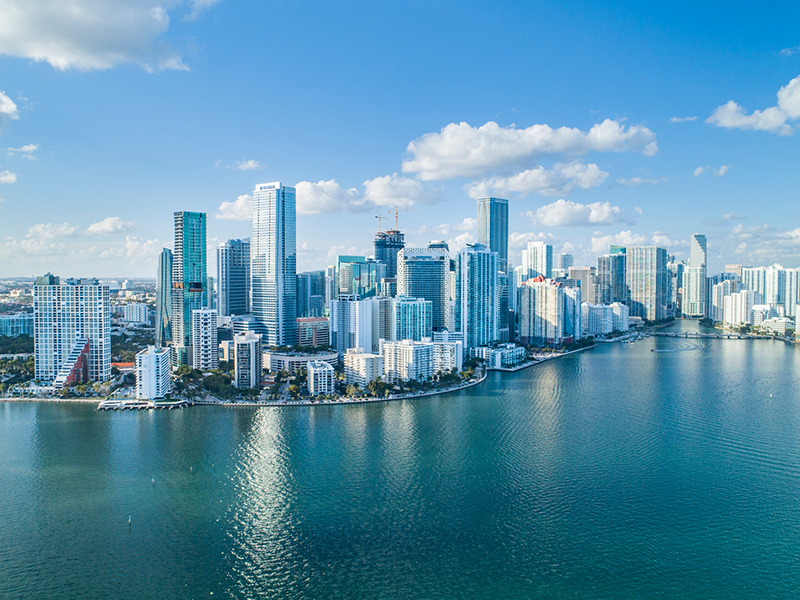 Brickell is the financial and residential hub of Miami. Modern and towering high-rise buildings dominate its skyline bordering Biscayne Bay. It's also a trendy neighborhood, offering world-class hotels and some of the city's best shopping and nightlife scenes. The new Brickell City Center has surpassed expectations and now has become one of the best shopping destinations in Miami, with many small unique boutiques and well-known chain stores. Brickell is a pedestrian-friendly area that every day has drawn more and more residents because of its cool vibes, and easy walking to jobs, restaurants, clubs, bars, coffee shops, and parks. Brickell offers residents a dense urban feel and most residents rent their homes.
Table of Contents:

The data relating to real estate for sale on this website comes in part from the participating Associations of the Miami Multiple Listing Service. The MLS data provided for the property above is provided courtesy of iHomefinder and Miami Association of REALTORS® The information being provided is for consumers' personal, non-commercial use and may not be used for any purpose other than to identify prospective properties consumers may be interested in purchasing. Information is deemed reliable but not guaranteed.

Miami-JTHS data last updated at September 29, 2023 10:21 AM ET
Brickell, FL homes for sale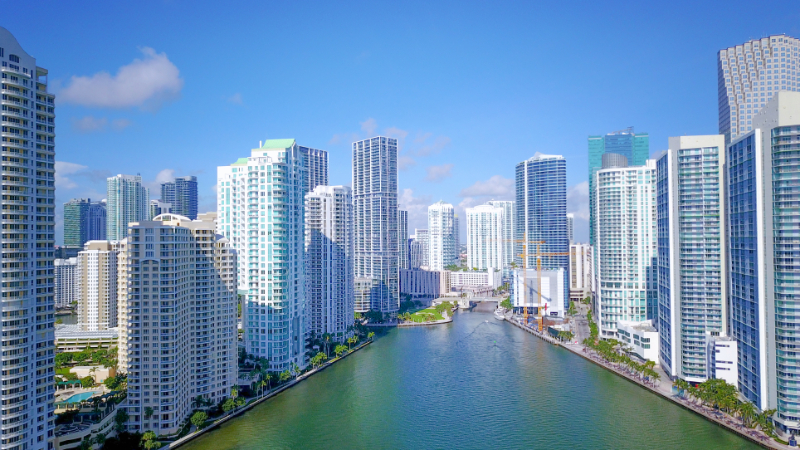 The neighborhood of Brickell lies at the heart of one of the world's most vibrant and fun cities – Miami, FL. The sunny, tropical version of Manhattan, Brickell is a bustling neighborhood that's synonymous with fast-paced living, high-rise buildings, trendy bars, great food, and good times. If dynamic urban living is right up your alley, you can never go wrong in choosing this neighborhood for your next home or investment.
ABOUT BRICKELL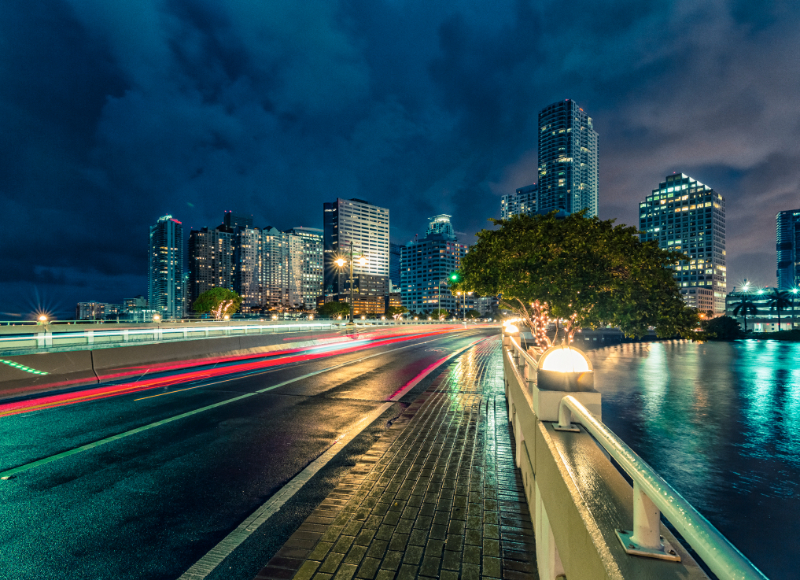 Brickell is one of Miami's oldest neighborhoods, yet also one of its most urbanized centers. Hailed as South Florida's financial district, this community by the shores of Biscayne Bay offers a cosmopolitan vibe, with immediate access to any modern convenience one could think of in a vibrant, tropical setting. It's no wonder that Brickell is known as a desirable location for families and working professionals.
Brickell faces Biscayne Bay on its eastern side, while I-95 separates it from the mostly residential communities of Little Havana on the northwest and Coral Way on the southwest. Directly above it is Downtown Miami. This dense urban neighborhood is home to approximately 13,000 residents, and this number is still most likely to grow with the ongoing surge in migration to Florida, especially in this neighborhood.
Brickell is one of Miami's economic and entertainment hotspots with its bustling streets, gleaming office towers, and exhilarating nightlife. It's home to many of Miami's tallest skyscrapers, such as the Four Seasons Hotel & Tower, JW Marriott Marquis Miami, and the Mandarin Oriental. It will also soon be home to new luxury developments such as St. Regis Residences Brickell, ORA by Casa Tua, The Residences at 1428 Brickell, and The Residences at Mandarin Oriental.
Life in Brickell is nothing short of fun and fabulous. Restaurants, shopping centers, parks, and hotels are all within walking distance. It's also easily accessible via public commute, which is why it's constantly pulsating with energy from the time the sun rises up to way past sundown.
Brief history
Brickell's history goes way back to the early 1900s. One of the earliest homesteading families to live in the neighborhood were Mary Brickell and her family; hence, the name "Brickell".
From 1910 to 1919, the Brickells built a subdivision just south of the river, filling the area with broad avenues and landscaped medians. By 1920, Brickell Avenue was lined with grand winter estates, which led to the area becoming known as Miami's "Millionaire's Row" or Gold Coast.
The neighborhood then went on to be populated by a mix of wealthy northerners and locals, and many affluent families would choose to have their winter estates built within the popular community.
Brickell's Millionaire's Row is long gone – replaced by today's bayfront high-rises – but the memories of the neighborhood's luxury and splendor live on, as seen in Brickell's growth and its current residents' excellent quality of living.
BRICKELL HOUSING MARKET: AN OVERVIEW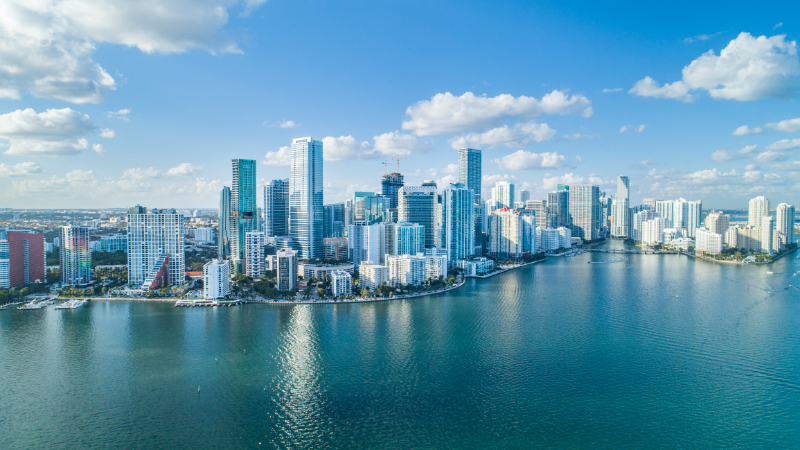 Brickell is a business hub that has expanded rapidly within the last decade. Here, you'll find one of the largest concentrations of international banks and businesses in its midst; thus, earning it the moniker, Manhattan – or Wall Street – of the South.
This, along with the neighborhood's upbeat atmosphere and accessibility, is why Brickell is a prime location in Miami for raising a family, exploring job opportunities, and investing in real estate.
Brickell, FL homes for sale
Two opposing forces have been at play, affecting much of Miami's – including Brickell's – real estate market recently. On one hand, you have the population boom caused by the surge in migration of people to the area which roughly started during the lockdowns at the onset of the pandemic. With more people coming in to take advantage of the tropical setting, spectacular waterfront views, walkability, and amazing lifestyle in the area, they will naturally seek a roof over their heads. This is where the demand for the existing housing stock comes in.
A slight slowing down in demand is an advantage to home buyers wanting to call Brickell home, especially now that the field between buyers and sellers of Brickell properties has been leveled off. If you're to pursue buying any of the homes for sale in Brickell, FL, the biggest advantage you'll have is to have one of the top Brickell Realtors on your side to guide you on your path to a successful and stress-free purchase. They will be the ones to put your interests forward in any negotiation and ensure that you're well-informed in your decision-making with regard to the path you'll take in your real estate transaction in Brickell.
Property types
Here are some of the most common residential property types in Brickell:
CONDOMINIUMS
Because Brickell is a compact area and the majority of its residents are families and working professionals, most people here prefer to live in condominium complexes. The condos here are highly sought-after because of their proximity to commercial, shopping, and entertainment districts, the wide array of amenities, and the high potential for appreciation.
Many luxury condos in Brickell feature stunning views of Biscayne Bay and the surrounding cityscape. Most of them have balconies or terraces that allow residents to fully take in incredible vistas of the bay, Fisher Island, Key Biscayne, and the North Atlantic Ocean in the distance. Others may have floor-to-ceiling windows that not only give them an aerial view of the city and its surrounding waters but also allow an abundance of natural light to come in.
Condo residents have access to state-of-the-art fitness centers, swimming pools, 24-hour security, concierge assistance, parking, and other perks and amenities. Some condos allow short-term rentals, as well. Many of the newer projects offer short-term rental plans, allowing buyers to recoup some of the expenses of homeownership.
SINGLE-FAMILY HOMES
While the most popular type of property in Brickell tends to be condominiums, single-family homes are still an option for home buyers because of the ease of customization, appreciation potential, and long-term stability that they provide. South Miami Avenue in Brickell is known for its large and luxurious single-family homes.
Many single-family homes in Brickell often feature expansive and elaborate outdoor living spaces to make the most out of the area's wonderful tropical climate. Outdoor amenities include rooftop terraces, covered patios and balconies, landscaped yards, and in-ground pools.
TOWNHOMES
These property types come at a lower price point than single-family properties due to the fact that they have shared walls among each other. However, each townhome has its respective entrance and living spaces, thus presenting a significant level of privacy. These properties are not as abundant as condos or single-family homes in Brickell but there are a few available units in the market that would make great family homes. They're low maintenance, have good investment potential, and offer a lock-and-leave convenience.
The Brickell rental market
The steep prices of residences in Brickell, plus the overwhelming demand for real estate in the area, has driven many new residents to opt for rentals. And even luxury rentals are fast becoming scarce due to the demand. Data from rental website Zumper show that rental rates in Brickell have increased by 5% YoY.
That said, the opportunity to invest in rental properties in Brickell is ripe for those with the budget and a keen eye for business. The passive income for this investment could go as high as more than $3,500 every month for one studio unit – good enough to pay off the mortgage and other payables and with a handsome profit.
LIVING IN BRICKELL, FL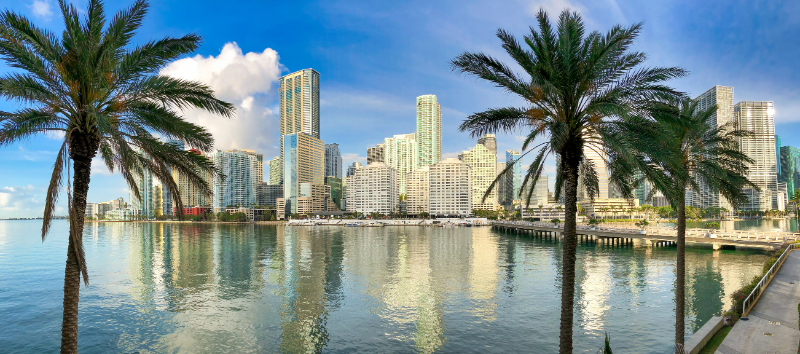 Living in Brickell, FL homes for sale is a great idea for anyone with a career and family to build in a beautiful coastal setting. Here's why.
Brickell's wonderful subtropical climate
Winters in Brickell, FL are mild and pleasant. The average temperature in January is at a comfortable 75 degrees, with almost zero chances of snow. Summers could be sweltering but the season provides maximum opportunities for residents to go out and enjoy the area's lovely beaches and the activities that come along with it. Living in Brickell, you can enjoy the sunshine all year round.
Melting pot of cultures
Brickell will always offer you something new and exciting to experience, from workplaces with a global village feel to restaurants serving different cuisines from every corner of the world. The area is known to have multicultural residents who have settled in for work, play, and investment opportunities. Walk along its streets and you'll hear a mix of languages being spoken.
Many multinational corporations also have headquarters in Brickell, so it's a great place to network, make connections, and explore better job opportunities.
A booming financial hub and business district
As mentioned earlier, Brickell and Downtown are the financial centers of Miami. That's why it's not surprising that a good number of its working population is connected with the banking and investment firms here. If your career path leans toward money matters, Brickell is where you'll find your place in the sun.
The entrepreneurial spirit is also strong in Brickell. The neighborhood is filled with young professionals looking for the next big thing, so it's the perfect place to launch your innovative business idea.
Unrivaled shopping and dining scene
Brickell City Centre, which is a short walk from Brickell Avenue, is a shopaholic's dream come true. This mixed-use complex has more than 120 establishments within its confines consisting of high-end shops, boutiques, and restaurants.
Some of the most popular stores in Brickell City Centre include Saks Fifth Avenue, Zara, and Sephora. Once you've had your fill of shopping and browsing, head on to any of the restaurants and food outlets within the mall for either a quick bite or a fill of your favorite comfort food.
Another popular retail hub is Mary Brickell Village. More laid-back and a bit quieter than Brickell City Centre, it also has its own set of upscale shops and food spots, plus a number of exciting nightlife attractions.
Outstanding education
For residents who prefer the exclusivity of private education for their children, several excellent private schools close to Brickell include Ransom Everglades, Carrollton School of the Sacred Heart, and Miami Country School.
For higher education, the University of Miami in Coral Gables is just a short ride away from Brickell. There's also the Wolfson Campus of Miami Dade College which is found in neighboring Downtown Miami going north. Both are highly respected schools for tertiary education in the Sunshine State.
Many parks and open spaces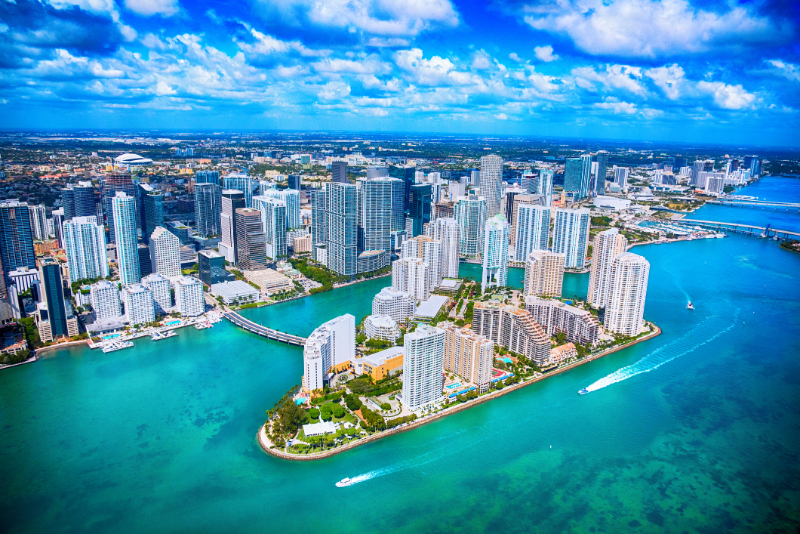 If you're the active kind or someone who loves the outdoors, then Brickell will not disappoint. The neighborhood is very easy to walk or bike in, with easy access to other great areas for fitness buffs.
Brickell Key Park is one of the most popular parks in the area – perfect for a morning jog or an afternoon picnic. There's also Simpson Park, a green oasis that covers 7.8 acres of the Brickell neighborhood and serves as home to some endangered plant species.
Meanwhile, of special importance is the Miami Circle National Historic Landmark – an area where prehistoric artifacts were discovered while developers were clearing the area for new buildings in 1998. Both the City of Miami and the State of Florida decided to purchase the said area from the developers and preserve it as a local treasure. It is now listed in the National Register of Historic Places.
Excellent public transportation system
Brickell is served by Miami Metrorail, known as one of the most efficient public transportation systems in South Florida. This system makes it easy to move around Brickell, Downtown and South Miami, including major attractions and destinations such as the Brickell City Centre, Brickell Avenue, and Brickell Key.
Another means of public transport in Brickell is the Miami Trolley which runs through the neighborhood and stops at many of Miami's landmarks and attractions. It's a great alternative to the Metrorail if you want to go sightseeing.
Walkable neighborhood
The Brickell neighborhood was designed with pedestrians in mind, as it is filled with sidewalks, crosswalks, and pedestrian bridges. In fact, Brickell is almost always mentioned among the top walkable neighborhoods of Miami. The neighborhood is quite compact, as commercial and business spaces are interspersed with residences. You could also opt to travel on two wheels as the area is also bike-friendly.
New developments in the pipeline
Brickell continues to grow, not just as an exciting financial district but as a place to put down roots or a promising venue for real estate investment. New developments are, in fact, being laid down in Brickell's thrust to keep up with the times and provide the best quality of life for its residents.
One of the most significant ongoing projects in Brickell is The Underline. When it's completed, The Underline will be a rail-linked park spanning 10 miles underneath Miami's elevated Metrorail system. It is envisioned to become not only a city park but also an urban trail and a public art gallery where everyone can see and experience the best of Miami's local art scene.
NOW IS THE BEST TIME TO INVEST IN BRICKELL REAL ESTATE
Brickell, FL is a perfect place to live, work, and play. That's why Brickell, FL should be at the top of your list when you search for homes for sale in the Miami-Dade area.
To make your search convenient and stress-free, let our team of experts at Great Properties International Realty help you. We are a boutique real estate firm with more than 15 years of experience in helping clients in selling and buying luxury and waterfront properties.
Get in touch with one of our agents at Great Properties Int'l. today! Reach us at 305.215.1686 or send us a message here.