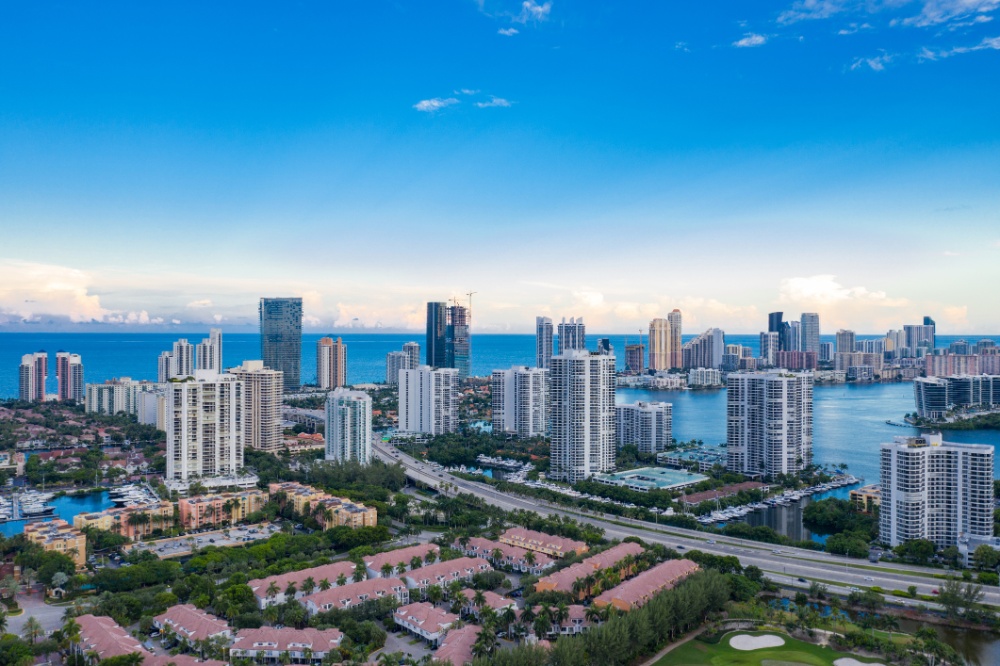 Aventura is a suburb located between Ft Lauderdale to the North and Miami to the South. It is probably best known for its shopping center, Aventura Mall. It is the largest in Florida, with more than 300 stores, a vast food hall, varied entertainment options, and captivating public art installations – it's one of Greater Miami & Miami Beach's top destinations for shopping and family fun.
Aventura Florida is considered one of the best places to invest in real estate in South Florida, as it is a more residential environment and ideal for families and at the same time close to the city's beautiful beaches, shopping malls, and attractions. It has a good mix of condominiums and single-family homes, making it an ideal place for all types of families.
It's also home to Turnberry Isle Miami, a Mediterranean-style retreat. It is one of the original and best-known developments in the area.

Sorry we are experiencing system issues. Please try again.

Aventura, FL homes for sale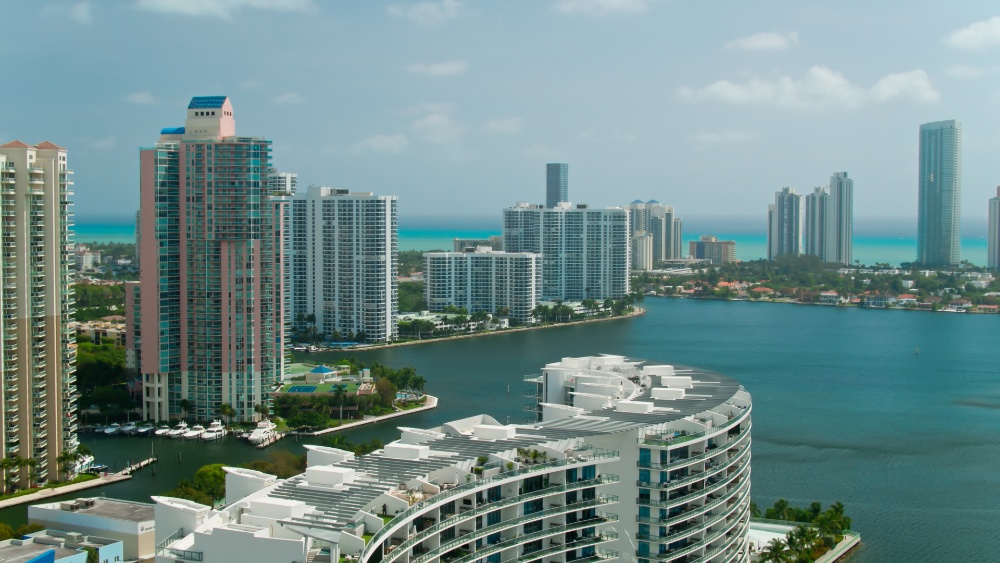 The City of Aventura, Florida may not be as well-known as Miami-Dade's more prominent urban centers but it possesses a unique character that draws in those wanting to work, live, and play in the South Florida region.
Get to know the city's many astounding facets that will drive you to start shopping for Aventura, Florida homes for sale.
AVENTURA, FL: AN OVERVIEW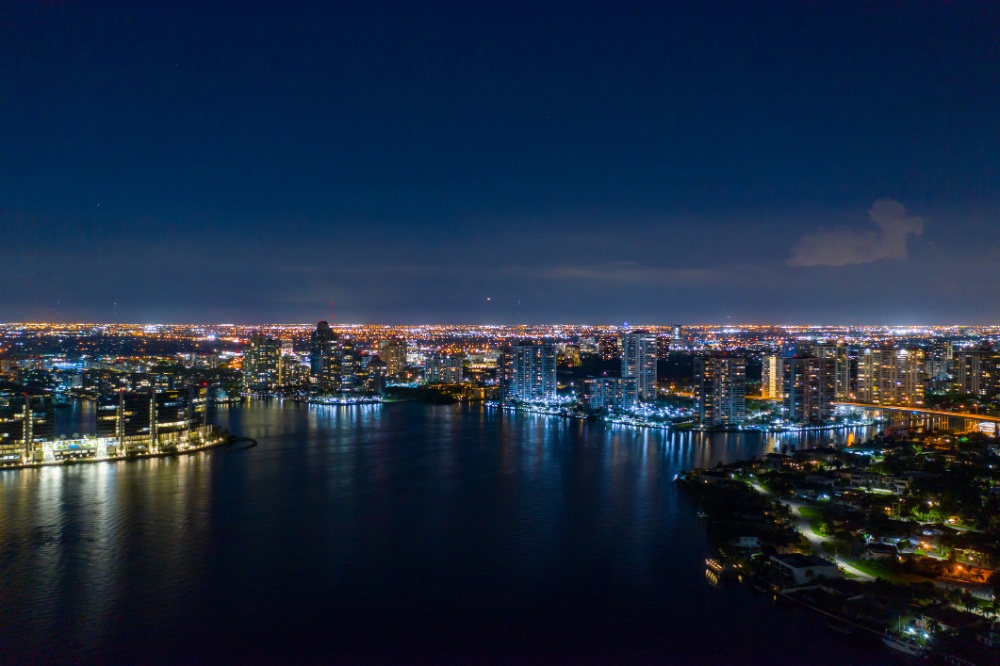 Found in the northeastern section of Miami-Dade County, the city of Aventura conveniently lies smack in the middle of Fort Lauderdale and Miami. This puts it in close proximity to two major Florida airports (Miami International Airport and Fort Lauderdale-Hollywood International Airport) and seaports (Fascell Port of Miami and Port Everglades). As a planned suburban city, Aventura boasts a relatively subdued residential atmosphere that's perfect for families, professionals, and everyone else who's interested in living the good life.
History
It wasn't long ago that Aventura was nothing more than acres of marshland. This may still have been the case today if not for the vision of Don Soffer, famed American businessman and investor, who saw the area's potential and transformed it into the thriving city that it is today.
Aventura was initially named Turnberry after Soffer's real estate development company, Turnberry Associates. Development of the area began in the early 1970s and it was incorporated into a city in 1995. The city was renamed Aventura – the Spanish word for "adventure" – after Soffer's statement, "What an adventure this is going to be," became its unofficial motto.
One of the more memorable moments that happened here: After leaving the White House in 2001, former US President Bill Clinton visited Aventura and gave one of his earliest post-presidency speeches at the Aventura-Turnberry Jewish Center.
Getting around
By car, Aventura residents could reach Fort Lauderdale in around 20 minutes, and Miami in approximately 23 minutes. Those who prefer to commute can ride the Aventura Express Shuttle Bus, which has three routes that connect passengers to any Miami-Dade or Broward County transit route. Aventura Express can also ferry passengers to major points of interest in Aventura, such as Aventura Mall and the northeast branch of Miami-Dade Library.
The city also has its own bike share program, the Aventura BCycle Bike Share, which allows members to book and ride bicycles on demand via docking stations spread across the city.
Those who truly want to save on transportation costs will be glad to get on Freebee, a free ride service available through the Freebee app.
Geography and demographics
Aventura lies just east of I-95, with the Miami-Dade Broward County line serving as its northern boundary, the Florida East Coast Railway (FEC) as its western boundary, the Intracoastal Waterway as its eastern boundary, and NE 176th Street as its southern boundary. US 1 runs along the city's western edge. The city has a total land area of 3.5 square miles, of which 23.08% is water.
As of the 2020 US census, there were over 40,000 people living in the city. The median age of residents is 50.2. The tranquil atmosphere that Aventura, Florida homes for sale are known for attracts a large population of retirees.
Cost of living
Given its nature as one of the more sought-after areas in the county and the rest of the state, Aventura, FL has a high cost of living. The overall cost of living is 115,9, which is 12.8 points higher than the state average. However, it rewards its residents with an excellent quality of life with an abundance of venues for recreation, both on and off the land. Its remarkable waterways also form part of the Intracoastal Waterway system, which makes them additional transportation routes for those with private boats and yachts.
The next sections will discuss in detail why the quality of life in Aventura, FL is a major reason behind its attraction among tourists and the overwhelming demand for homes for sale here.
WHAT AVENTURA, FL IS KNOWN FOR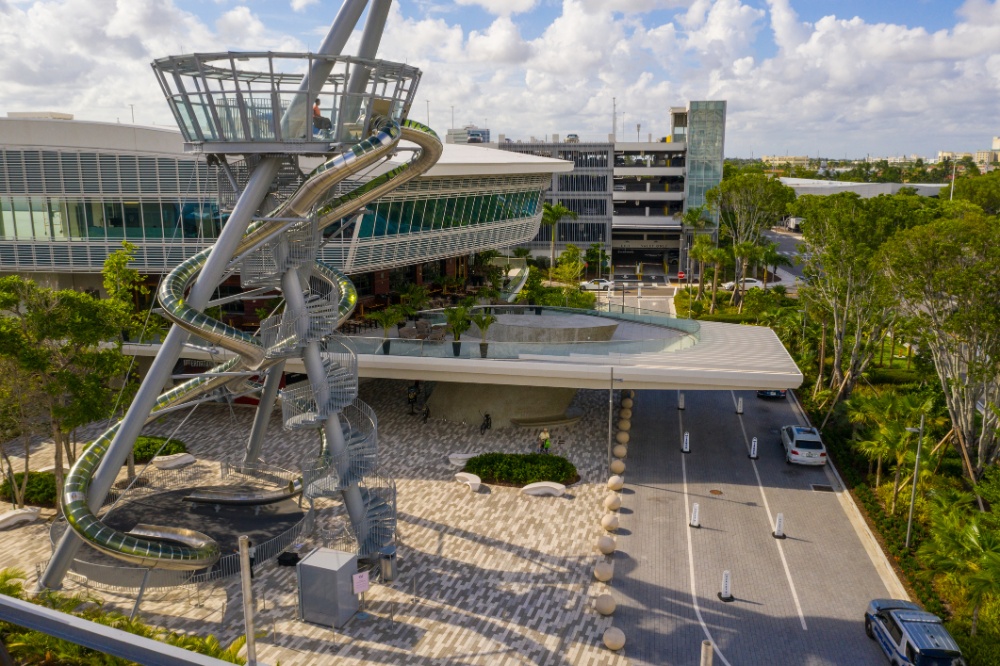 Thanks to Aventura's excellent planning, residents get to enjoy natural beauty with big-city amenities. Wherever you live in Aventura, you're never too far away from modern amenities and conveniences.
Below are some of this city's most popular attractions.
Aventura is primarily known for this retail hub – the largest shopping mall in Florida and the third-largest in the whole country. The mall features renowned luxury boutiques and popular brand retailers such as Bloomingdale's, Macy's, and JCPenney, to name a few. The massive mall also houses world-class art galleries, jewelry stores, indoor and outdoor restaurants, a farmers market, and other shopping mall staples.
JW Marriott Miami Turnberry Resort & Spa
This world-class Mediterranean-style hotel is situated at the heart of Aventura. It features a century-old Banyan tree, lush green landscapes, and two championship golf courses redesigned by Raymond Floyd, one of golf's great champions. The resort is known for its many upscale offerings, including well-appointed luxury suites, a full-service spa and wellness center, a Michelin-starred chef's restaurant, and a massive waterpark.
A key highlight of JW Marriott Miami Turnberry, this recreation facility features water slides, river rides, tranquility pools, and a host of other water attractions. The Aqua Drop is a freefall, almost-vertical slide that delivers a maximum adrenaline rush. Boomerango, Tidal Cove's original waterslide, lets a group ride a raft through a course with sudden drops. The Constrictor, as the name suggests, is a long, snake-like tube where riders can plummet through and splash into the pool below. Tidal Cove also boasts the nation's first-ever FlowRider Triple machine where bodyboarders can work on their technique.
Conveniently located in nearby Hallandale Beach, South City Beach Park is just a short 15 to 20-minute ride north of Aventura. This coastal park has bocce courts, volleyball courts, a toddler's playground, and multiple family picnic areas. Full-service concessions are available at Cafe Cita at the Beach. The site also has a covered pavilion where events and activities are held.
Those who want to enjoy a truly carefree time on the sand should make it a point to visit Florida's oldest and officially sanctioned public nudist beach which attracts more than a million visitors every year. The beach also has spaces for regular sunbathers who want to keep their clothes on. Make sure you bring your own food and beverages as the concessionaires are few and far between.
One of the county's truly unique hidden jewels is an old monastery found around 4 miles south of Aventura. First built in Spain some 900 years ago, it was bought in the 1930s by American newspaper tycoon William Randolph Hearst. Not long after, he had the entire monastery – all 35,000 pieces of it – dismantled, transported, and rebuilt on the space along West Dixie Highway where it still stands today.  The cloisters are now part of an Episcopal Church and are open for day tours booked in advance.
AVENTURA, FL REAL ESTATE MARKET TRENDS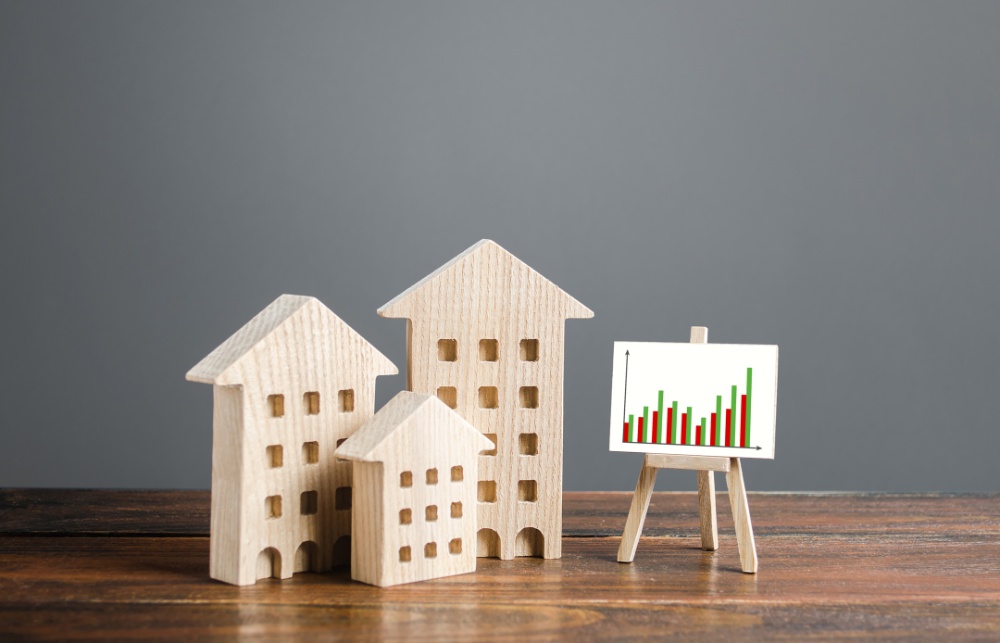 Aventura is widely considered to be one of the best places to live in Florida, and its modern urban atmosphere continues to attract people from northern cities like New York, Washington, DC, Boston, MA, and Chicago, IL Even residents from fellow coastal state California are finding their way to this highly livable city in Miami-Dade County.
The median sale price of sold homes here has been moving within the range of $260,000 and $535,000 in the last five years, with luxury properties typically hovering between $950,000 and $1.6 million. The most expensive home in the areasold for $6.4 million. The relative affordability of luxury homes, combined with an increasing housing inventory, makes Aventura one of the best places to invest in or snap up real estate this 2023.
Most of the residential communities in the city are just a few decades old, which is why modern, contemporary, and art deco architectural designs are quite common in Aventura, FL real estate. Classic Mediterranean architecture is also a popular design choice among Aventura homes for sale, given Aventura's coastal location.
WHERE TO LIVE IN AVENTURA, FL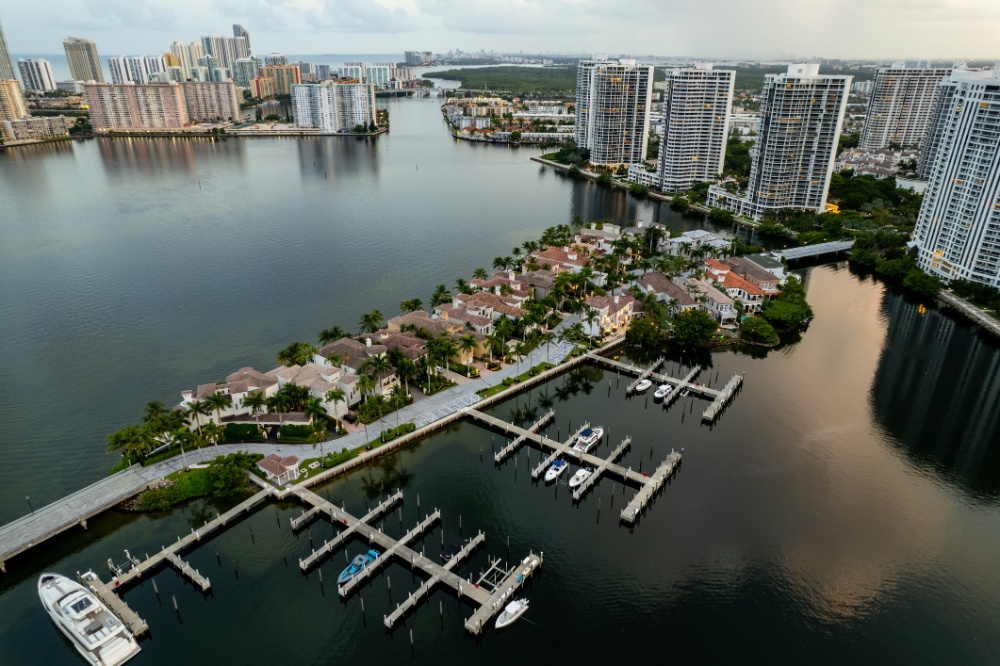 Multiple neighborhoods in Aventura stand out for their prime location, exclusivity, and community feel. Buyers get to choose from a wide range of real estate options, including ultra-luxury Aventura condos for sale, well-thought-out townhouses, and stylish single-family homes. Below are the top neighborhoods you should get to know before you go shopping for Aventura homes for sale.
Aventura Isles
Located west of I-95, just a short distance from Ives Dairy Road, Aventura Isles is a gated community featuring a collection of single-family and townhouse properties, each of which is divided into four distinct residential property types: Single-family homes are categorized as Caribbean Series, Jewel Series, Island Series, and Singles Family; while townhomes are either part of the Orchid, Jasmine, Azalea, and Hibiscus series. Community amenities include jogging and hiking paths, natural parks, swimming pools, and a lakefront.
Prive Island
Privacy can't get any better than this ultra-luxury condo development set on a secluded 8-acre island on the Intracoastal Waterway. The development consists of two 16-story towers, each with 80 elaborate and spacious residences complete with roomy terraces. All the units feature floor-to-ceiling glass walls, European-style kitchens and bathrooms, expansive open floor plans, and private elevator entries. Penthouse residences come complete with swimming pools and rooftop gardens. Communal amenities include a jogging trail, lighted tennis courts, and a private marina, among many others.
Porto Vita North
Porto Vita North is a massive 32-story luxury condo tower that belongs to the uber-exclusive Porto Vita gated community. Just a stone's throw away from Aventura Mall, Porto Vita North promises residents the utmost in luxury, privacy, and comfort. Aventura condos for sale inside Porto Vita North range from two- to five-bedroom units boasting amazing interiors and jaw-dropping views of the waterfront and golf course. The community's centerpiece – the 35,000-square-foot Villa Grande Club – provides members with access to upscale amenities such as a European-style spa, a fitness center, heated pools, a poolside bar, a beauty salon, and numerous casual and formal dining options.
Williams Island
Williams Island boasts nine grand high-rise condo towers, a Mediterranean village, and a townhouse community set on 84 impeccably landscaped acres located in the heart of Aventura.  Each residential community boasts five-star resort amenities, including a newly renovated 27,000-square-foot European-style spa and fitness center, fine and casual dining options, a tennis club, and two private marinas. In addition to these shared amenities, buyers get to choose from a wide array of Aventura condos for sale with stunning views or townhomes that offer varying levels of personal space.
Sunny Isles
Known as the "City of Sun and Sea," Sunny Isles is an incorporated beachside metropolitan community filled with luxury condo complexes such as Aqualina, Jade Beach, The Porsche Towers, and Turnberry Resort, to name a few. It is sandwiched by the Atlantic Ocean on the east and the Intracoastal Waterway on the west – you're never too far from a cozy day at the beach. Also minutes away are local attractions such as Oceanfront Park, Oleta River State Park, and Haulover Park.
LIFE IN AVENTURA, FL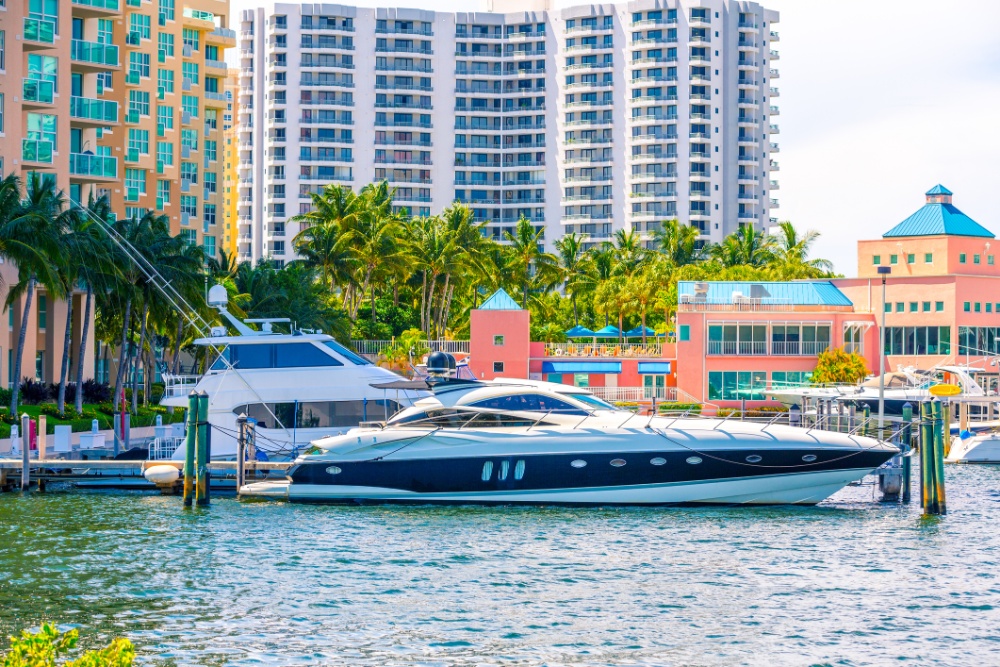 If you prefer to live in a largely residential city with a high quality of life and a network of waterways for both transport and leisure, then Aventura, Florida homes for sale deserve your serious consideration. To help you make an informed decision regarding your potential Aventura, FL real estate purchase, here's what to expect when you move here.
Amazing year-round weather
Day in and day out, the average temperature seldom falls below 68 degrees. Water temperatures are also equally comfy. With these great weather conditions, anyone who snaps up Aventura, Florida homes for sale gets to enjoy their favorite outdoor activities any time of the year. During the off-season when the crowds are thinner, you can even have an entire beach to yourself.
Numerous outdoor recreational opportunities
Aventura is rich in natural beauty, and thanks to South Florida's pleasant year-round climate, locals get to enjoy an active outdoor lifestyle whenever they feel like it. Aventura's well-planned layout means plenty of natural green spaces where people can run, walk, and bike to their heart's content. At the heart of the community, there's Founders Park which offers a multi-use greenspace, complete with sports fields, trails for biking and hiking, and open-air venues for community events.
For those who like to work up a sweat before starting their day, the Don Soffer Exercise Trail – which encircles the JW Marriott Turnberry Resort – provides a 3.1-mile path for jogging, biking, and walking. Benches and shade trees are scattered throughout the area for those who want to rest between laps.
Aventura's proximity to the water delivers plenty of opportunities for relaxation and water-based activities. During the weekends, people hit the city's many beaches and waterways and spend many fun-filled hours enjoying the sun, sand, and sea. Sunbathing, boating, fishing, and kayaking are among the most popular weekend activities here.
World-class shopping
Boutique shops, specialty stores, outlet centers, and well-established brands are easily within walking and biking distance anywhere you live in Aventura. Over at Biscayne Boulevard, trendy strip malls, independent shops, and art galleries line the street on either side. Likewise, Town Center Aventura provides the utmost outdoor shopping experience with plenty of shops, restaurants, and bars to choose from.
Of course, there's also the aforementioned Aventura Mall, which is practically synonymous with Aventura. Aside from a jaw-dropping number of stores and restaurants, the mall hosts regular events and entertainment to engage visitors and residents alike.
Foodie haven
With so many delectable dining options, it can be difficult to choose which restaurant in Aventura to visit first. Cuisine from all over the world can practically be found anywhere in the city, including Japanese, Mexican, European, Asian, and more.
JW Marriott Turnberry, in particular, houses a good number of Aventura's most-visited restaurants, including Bourbon Steak, a dining spot owned by Michelin-starred chef Michael Mina. Soff's and CORSAIR are also noteworthy dining places here.
Aventura's other popular food haunts include CVI.CHE 105, which serves mouthwatering Peruvian dishes; Novecento, home of deliciously prepared Argentinian meals and Italian pasta; and Reunion Ktchn Bar, known for serving freshly caught seafood and the best local drafts.
Top-rated schools
Aventura places great emphasis on good education. The city hosts eight public schools – three elementary, four middle, and one high school – all rated good and higher by GreatSchools. There are also private and charter schools in the area.
Some of the best schools serving Aventura's students include:
ACHIEVE HOME-BUYING SUCCESS IN AVENTURA, FL
When shopping for the ideal Aventura, Florida homes for sale, partnering with our team at Great Properties International Realty is a winning move. With our diverse range of real estate backgrounds and experiences, we can effectively assist you in navigating your home-buying journey to ensure that you achieve your goals. Contact us today at 305.215.1686 or send us a message here to start.